OUR COMMITMENT TO QUALITY SPECIALTY METALS
Reynolds Services, Inc. is a critical supplier in many important supply chains.  As such, we take our role in supplying quality specialty metals and products for everything from food packaging to electronics to automotive parts very seriously.  Since the inception of the company we have striven to build a company name synonymous with the following ideals:
Reliability
To provide the best quality products to our customers with 100% compliance and "zero defects."
Safety & Cleanliness
To provide a safe and clean working environment at all times for all of our employees.
Integrity & Innovation
To establish the RSI name to be synonymous with service, dependability, and innovation.
Our quality policy reflects not only our commitment to exceeding customer's expectations, but also the top-down commitment of our organization to constantly improve and reengineer our organization to meet the demands and needs of a dynamic marketplace.  The quality policy of Reynolds Services, Inc. is as follows:
Reynolds Services, Inc. is committed to consistently meeting or exceeding our customers' expectations for product quality and performance, delivering products on time, and continuously improving our processes and systems.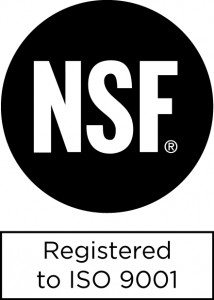 Reynolds Services, Inc. established, documented, implemented, and strives to maintain a quality management system, constantly improving its effectiveness in accordance with the requirements of ANSI/ISO/ASQ 9001:2015.
Our commitment to our quality management system is second to none with state-of-the-art quality testing equipment at each facility that includes, but not limited to, Rockwell Testers, Coating Testers, Springback Testers, and proprietary Apple iOS-based data capture equipment and systems.
Due to their history steeped in a tradition of the standardization of sanitation and food safety requirements, RSI has chosen NSF International as our ISO 9001 quality management system registrar.
Commitment to Quality
Our world-class equipment is backed by an extensive Quality System that is registered by NSF-ISR to the 9001:2015 Standard.
RSI QUALITY SYSTEM ADVANTAGES
The points listed below are just a few of the major advantages of the quality system employed by Reynolds Services to assist in the processing and distribution of tin mill products, flat rolled steel products, and other nonferrous metals in North America and around the globe:
 Our Real Time Quality System available to all employees.  When a change is made, its distribution is instantaneous to all RSI locations.
 Quality Equipment is calibrated or verified at specified internals prior to use against measuring standards traceable to international or national measurements; in instances where no such standards exist, the basis used for calibration or verification is recorded.
 Reynolds Services conducts internal audits at planned intervals to determine the status of the quality system and its processes.  The audits are planned, but they take in to careful consideration the status of the important processes as well as past and future audits.
 Reynolds Services also conducts extensive quality testing in-house including pre-line, post-line, and during operation to ensure that the product order meets or exceeds the customer expectations.  These tests are extensive to ensure that non-conforming product is isolated and reviewed by quality personnel.
 As a result of Reynolds Services' many quality functions, Reynolds Services' has the ability to track a single unit all the way back through production to the raw form of the coil from the producing supplier.  Some other details listed in this check include the quality checks performed on the unit by the employee, what supervisor signed off on the unit after production, and the quality checks performed on the coil from which the unit came.  The Quality Tracking System barcodes everything from the coils to the cut sheets so that everything can be tracked and traced through Reynolds Services' database in a quick and efficient manner.  All of these checks and balances are to ensure the customer receives a product that meets or exceeds their expectations for product quality and performance.